Site Map
Rheumatoid arthritis
RA; Arthritis - rheumatoid
Rheumatoid arthritis (RA) is a disease that leads to inflammation of the joints and surrounding tissues. It is a long-term disease. It can also affect other organs.
Images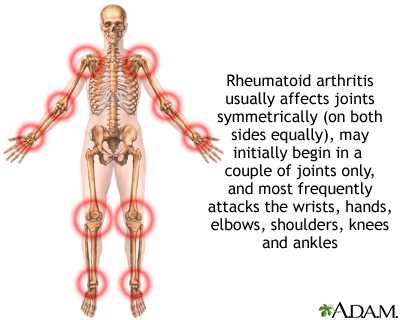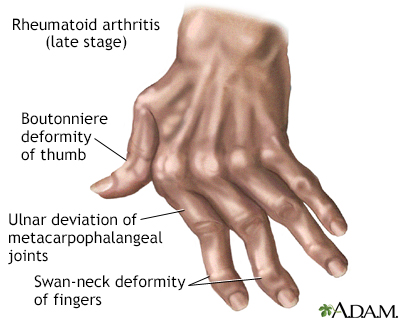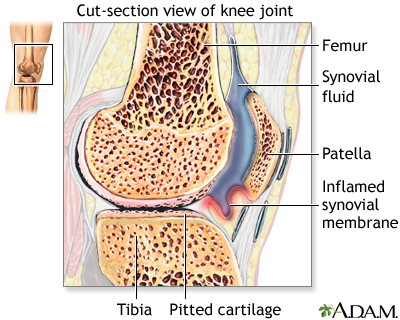 Causes
The cause of RA is not known. It is an autoimmune disease. This means the immune system of the body mistakenly attacks healthy tissue.
RA can occur at any age, but is more common in middle age. Women get RA more often than men.
Infection, genes, and hormone changes may be linked to the disease. Smoking may also be linked to RA.
It is less common than osteoarthritis (OA) which is a condition that occurs in many people due to wear and tear on the joints as they age.
Symptoms
Most of the time, RA affects joints on both sides of the body equally. Fingers, wrists, knees, feet, elbows, ankles, hips and shoulders are the most commonly affected.
The disease often begins slowly. Early symptoms may include:
Minor joint pain
Stiffness
Fatigue
Joint symptoms may include:
Morning stiffness, which lasts more than 1 hour, is common.
Joints may feel warm, tender, and stiff when not used for an hour.
Joint pain is often felt in the same joint on both sides of the body.
Joints are often swollen.
Over time, joints may lose their range of motion and may become deformed.
Other symptoms include:
Chest pain when taking a breath (pleurisy)
Dry eyes and mouth (Sjögren syndrome)
Nodules under the skin (most often a sign of more severe disease)
Numbness, tingling, or burning in the hands and feet
Sleep difficulties
The diagnosis of RA is made when:
You have pain and swelling in 3 or more joints.
Arthritis has been present for longer than 6 weeks.
You have a positive test for rheumatoid factor or anti-CCP antibody.
You have elevated ESR or CRP.
Other types of arthritis have been ruled out.
Sometimes the diagnosis of RA is made even without all of the conditions shown above if the arthritis is otherwise typical for RA.
Exams and Tests
There is no test that can determine for sure whether you have RA. Most people with RA will have some abnormal test results. However, some people will have normal results for all tests.
Two lab tests that are positive in most people and often help in the diagnosis are:
These tests are positive in most patients with RA. The anti-CCP antibody test is more specific for RA.
Other tests that may be done include:
Treatment
RA most often requires long-term treatment by an expert in arthritis called a rheumatologist. Treatment includes:
Medicines
Physical therapy
Exercise
Education to help you understand the nature of RA, your treatment options, and the need for regular follow-up.
Surgery, if required
Early treatment for RA with medicines called disease-modifying antirheumatic drugs (DMARDs) should be used in all patients. This will slow joint destruction and prevent deformities. The activity of the RA should be checked at regular visits to make sure the disease is under control. The goal of treatment is to stop the progression of the RA.
MEDICINES
Anti-inflammatory medicines: These include aspirin and nonsteroidal anti-inflammatory drugs (NSAIDs), such as ibuprofen, naproxen and celecoxib.
These medicines work very well to reduce joint swelling and inflammation, but they can have long-term side effects. Therefore, they should be taken only for a short time and in low doses when possible.
Since they do not prevent joint damage if used alone, DMARDs should be used as well.
Disease modifying antirheumatic drugs (DMARDs): These are often the medicines that are tried first in people with RA. They are prescribed along with rest, strengthening exercise, and anti-inflammatory drugs.
Methotrexate is the most commonly used DMARD for rheumatoid arthritis. Leflunomide and hydroxychloroquine may also be used.
Sulfasalazine is a drug that is often combined with methotrexate and hydroxychloroquine (triple therapy).
It may be weeks or months before you see any benefit from these drugs.
These drugs may have serious side effects, so you will need frequent blood tests and other monitoring when taking them.
Antimalarial medicines -- This group of medicines includes hydroxychloroquine (Plaquenil). They are most often used along with methotrexate. It may be weeks or months before you see any benefit from these drugs.
Corticosteroids -- These medicines work very well to reduce joint swelling and inflammation, but they can have long-term side effects and do not prevent joint damage if used alone. Therefore, they should be taken only for a short time and in low doses when possible.
Biologic DMARD agents -- These medicines are designed to affect parts of the immune system that play a role in the disease process of RA.
They may be given when other medicines, usually methotrexate, have not worked. Biologic drugs are often added to methotrexate. However, because they are very expensive, insurance approval is generally required.
Most of them are given either under the skin or into a vein. There are now many different types of biologic agents.
Biologic and synthetic agents can be very helpful in treating RA. However, people taking these medicines must be watched closely because of uncommon, but serious adverse reactions:
Infections from bacteria, viruses, and fungi
Skin cancer, but not melanoma
Skin reactions
Allergic reactions
Worsened heart failure
Damage to nerves
Low white blood cell count
SURGERY
Surgery may be needed to correct severely damaged joints. Surgery may include:
PHYSICAL THERAPY
Range-of-motion exercises and exercise programs prescribed by a physical therapist can delay the loss of joint function and help keep muscles strong.
Sometimes, therapists will use special machines to apply deep heat or electrical stimulation to reduce pain and improve joint movement.
Other therapies that may help ease joint pain include:
Joint protection techniques
Heat and cold treatments
Splints or orthotic devices to support and align joints
Frequent rest periods between activities, as well as 8 to 10 hours of sleep per night
NUTRITION
Some people with RA may have intolerance or allergies to certain foods. A balanced nutritious diet is recommended. It may be helpful to eat foods rich in fish oils (omega-3 fatty acids). Smoking cigarettes should be stopped. Excessive alcohol should also be avoided.
Support Groups
More information and support for people with Rheumatoid arthritis and their families can be found by taking part in an arthritis support group.
Some people may benefit from taking part in an arthritis support group.
Outlook (Prognosis)
Whether your RA progresses or not depends on the severity of your symptoms and your response to treatment. It is important to start the treatment as soon as possible. Regular follow up visits with a rheumatologist are needed to adjust the treatment.
Permanent joint damage may occur without proper treatment. Early treatment with a three-medicine DMARD combination known as "triple therapy," or with the biologic or targeted synthetic medicines can prevent joint pain and damage.
Possible Complications
If not well treated, RA can affect nearly every part of the body. Complications may include:
Damage to the lung tissue.
Increased risk of hardening of the arteries, leading to cardiovascular disease.
Spinal injury when the neck bones become damaged.
Inflammation of the blood vessels (rheumatoid vasculitis), which can lead to skin, nerve, heart, and brain problems.
Swelling and inflammation of the outer lining of the heart (pericarditis) and of the heart muscle (myocarditis), which can lead to congestive heart failure.
However, these complications can be avoided with proper treatment. The treatments for RA can also cause serious side effects. Talk to your provider about the possible side effects of treatment and what to do if they occur.
When to Contact a Medical Professional
Contact your provider if you think you have symptoms of rheumatoid arthritis.
Prevention
There is no known prevention. Smoking appears to worsen RA, so it is important to avoid tobacco. Proper early treatment can help prevent further joint damage.
Related Information
Joint pain
Pleurisy
Anemia
Hypersensitivity vasculitis
Ulcers
Ankle replacement
Elbow replacement
Knee joint replacement
Hip joint replacement
ACL reconstruction - discharge
Ankle replacement - discharge
Elbow replacement - discharge
References
Fraenkel L, Bathon JM, England BR, et al. 2021 American College of Rheumatology guideline for the treatment of rheumatoid arthritis. Arthritis Care Res (Hoboken). 2021;73(7):924-939. PMID: 34101387 pubmed.ncbi.nlm.nih.gov/34101387/.
McInnes I, O'Dell JR. Rheumatoid arthritis. In: Goldman L, Schafer AI, eds. Goldman-Cecil Medicine. 26th ed. Philadelphia, PA: Elsevier; 2020:chap 248.
Mori S, Urata Y, Yoshitama T, Ueki Y. Tofacitinib versus tocilizumab in the treatment of biological-naïve or previous biological-failure patients with methotrexate-refractory active rheumatoid arthritis. RMD Open. 2021;7(2):e001601. PMID: 33958440  pubmed.ncbi.nlm.nih.gov/33958440/.
O'Dell JR. Treatment of rheumatoid arthritis. In: Firestein GS, Budd RC, Gabriel SE, Koretzky GA, McInnes IB, O'Dell JR, eds. Firestein & Kelley's Textbook of Rheumatology. 11th ed. Philadelphia, PA: Elsevier; 2021:chap 77.
BACK TO TOP
Review Date: 1/25/2023  
Reviewed By: Neil J. Gonter, MD, Assistant Professor of Medicine, Columbia University, NY and private practice specializing in Rheumatology at Rheumatology Associates of North Jersey, Teaneck, NJ. Review provided by VeriMed Healthcare Network. Also reviewed by David C. Dugdale, MD, Medical Director, Brenda Conaway, Editorial Director, and the A.D.A.M. Editorial team.
Health Content Provider
06/01/2025
A.D.A.M., Inc. is accredited by URAC, for Health Content Provider (www.urac.org). URAC's accreditation program is an independent audit to verify that A.D.A.M. follows rigorous standards of quality and accountability. A.D.A.M. is among the first to achieve this important distinction for online health information and services. Learn more about A.D.A.M.'s editorial policy, editorial process and privacy policy. A.D.A.M. is also a founding member of Hi-Ethics. This site complied with the HONcode standard for trustworthy health information from 1995 to 2022, after which HON (Health On the Net, a not-for-profit organization that promoted transparent and reliable health information online) was discontinued.
The information provided herein should not be used during any medical emergency or for the diagnosis or treatment of any medical condition. A licensed medical professional should be consulted for diagnosis and treatment of any and all medical conditions. Links to other sites are provided for information only -- they do not constitute endorsements of those other sites. © 1997- 2023 A.D.A.M., a business unit of Ebix, Inc. Any duplication or distribution of the information contained herein is strictly prohibited.
A.D.A.M. content is best viewed in IE9 or above, Firefox and Google Chrome browser.