On average, every 40 seconds, someone in the United States has a stroke. While age is the major risk factor, people who have a stroke are likely to have more than one risk factor.
Overall Cardiovascular Risk
Doctors can calculate an individual person's risk of having a stroke or heart attack within the next 10 years. The American College of Cardiology (ACC) and the American Heart Association (AHA) have a special "risk calculator" that factors into its equation a person's race, sex, age, total cholesterol, HDL ("good") cholesterol, blood pressure, use of blood pressure medications, diabetes status, and smoking history. These are the critical risk factors for both stroke and heart attack.
The ACC/AHA recommend using this risk equation to calculate 10-year risk in people, ages 40 to 79 years old. A separate calculation is used to estimate lifetime risk for heart attack or stroke in people starting at age 20 years.
Age
People most at risk for stroke are older adults, particularly those who have high blood pressure, are sedentary, are overweight, smoke, or have diabetes. Older age is also linked with higher rates of post-stroke dementia. However, younger people are not immune. Many stroke victims are under age 65.
Sex
In most age groups, except older adults, stroke is more common in men than in women. However, stroke kills and disables more women than men. This may be partly due to the fact that women tend to live longer than men, and stroke is more common among older adults.
Younger women have specific risk factors that place them at greater risk for stroke than men. These risks include migraine with aura, use of oral contraceptives, and pregnancy-related high blood pressure. Hypertension during pregnancy can develop into a dangerous condition called preeclampsia that increases stroke risk. Smoking amplifies these risks, as does the presence of high cholesterol or obesity.
Race and Ethnicity
Some US populations, including African Americans, American Indians, Alaska Natives, and Hispanics, have a higher risk of stroke than non-Hispanic Whites. African Americans have a significantly higher risk of death from stroke and double the risk of a first stroke compared with non-Hispanic Whites. Younger African Americans are two to three times more likely to have a stroke than similar age white people and four times more likely to die from one.
The racial disparities in stroke incidence may be partly explained by the higher prevalence of obesity, diabetes, and high blood pressure in these groups. However, studies suggest that socioeconomic factors also affect these differences.
Family History
A family history of stroke or TIA is a strong risk factor for stroke.
Lifestyle Factors
Smoking
People who smoke a pack of cigarettes a day have more than twice the risk for stroke as nonsmokers. Smoking increases both hemorrhagic and ischemic stroke risk. The risk for stroke may remain elevated for as long as 14 years after quitting, so the earlier one quits the better.
Diet
Unhealthy diet (saturated fat, high sodium) can contribute to heart disease, high blood pressure, and obesity, which are all risk factors for stroke. A heart-healthy diet can reduce the risk for stroke.
Physical Inactivity
Lack of regular exercise can increase the risk of obesity, diabetes, and poor circulation, which increases the risk of stroke.
Alcohol and Drug Abuse
Alcohol abuse, including binge drinking, increases the risk of stroke. Drug abuse, particularly with cocaine or methamphetamine, is a major risk factor for stroke in young adults. Anabolic steroids, used for body-building and sports enhancement, also increase stroke risk.
Heart and Vascular Diseases
Heart disease and stroke are closely tied for many reasons. People who have one heart or vascular condition (such as high blood pressure, high cholesterol, heart disease, diabetes, or peripheral artery disease) are at increased risk for developing other related conditions.
Prior Stroke
A history of a prior stroke or TIA significantly increases the risk for a subsequent stroke. People who have had at least one TIA are 10 times more likely to have a stroke than those who have not had a TIA.
Prior Heart Attack
People who have had a heart attack are at increased risk of stroke.
High Blood Pressure
High blood pressure (hypertension) contributes to about 70% of all strokes. People with hypertension have up to 10 times the normal risk of stroke, depending on the severity of the blood pressure and the presence of other risk factors. Women with hypertension are at greater risk than men for having a first stroke.
Hypertension is also an important cause of so-called silent cerebral infarcts (mini-strokes caused by blockages in the blood vessels in the brain), which may predict major stroke. Controlling blood pressure is extremely important for stroke prevention. Normal blood pressure is below 120/80 mmHg. Blood pressure is considered elevated between 120/80 and 129/80 mmHg and high at 130/80 mmHg or above.
Unhealthy Cholesterol Levels
A high total cholesterol level increases the risk of developing atherosclerosis ("hardening of the arteries") and heart disease. In atherosclerosis, fatty deposits (plaques) of cholesterol build up in the arteries of the heart.
Heart Disease
Coronary artery disease (heart disease), the end result of atherosclerosis, increases stroke risk. Anti-clotting medications, which are used in heart disease treatment to break up blood clots, can increase the risk of hemorrhagic stroke.
Atrial Fibrillation
Atrial fibrillation, a major risk factor for stroke, is a heart rhythm disorder in which the atria (the upper chambers in the heart) do not beat in a coordinated fashion, which often makes the overall heart rate fast and irregular. The blood stagnates instead of being pumped out promptly, increasing the risk for formation of blood clots that break loose and travel toward the brain or other parts of the body.
The stroke risk for people with atrial fibrillation is generally highest for those older than age 75, with heart failure or enlarged heart, coronary artery disease or other atherosclerotic vascular diseases, history of blood clots, diabetes, hypertension, women, or those with heart valve abnormalities.
Structural Heart Problems
Dilated cardiomyopathy (enlarged heart), heart valve disorders, and congenital heart defects, such as patent foramen ovale (opening between the upper chambers of heart, called atria) and atrial septal aneurysm (bulging of wall between the atria), are risk factors for stroke.
Carotid Artery Disease and Peripheral Artery Disease
Carotid artery disease is a serious risk factor for stroke. Atherosclerosis can cause fatty build-up in the carotid arteries of the neck, which can lead to blood clots that block blood flow and oxygen to the brain. People with peripheral artery disease, which occurs when atherosclerosis narrows blood vessels in the legs and arms, are at increased risk of carotid artery disease and subsequently stroke.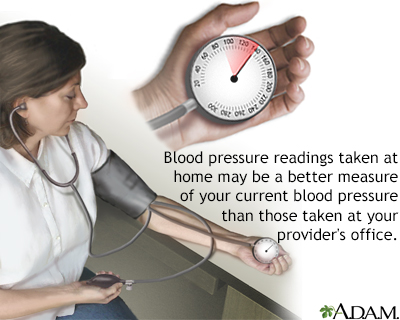 Hypertension is a disorder characterized by chronically high blood pressure. It must be monitored, treated, and controlled by medication, lifestyle changes, or a combination of both.


Click the icon to see an image of hypertension.
Diabetes
Heart disease and stroke are the leading causes of death in people with diabetes. Diabetes is second only to high blood pressure as the main risk factor for ischemic stroke. The risk is highest for adults newly diagnosed with type 2 diabetes and patients with diabetes who are younger than age 55. African-Americans with diabetes are at an even higher risk for stroke at a younger age. Diabetes is strongly associated with other stroke risk factors such as obesity and high blood pressure. Diabetes does not appear to increase the risk for hemorrhagic stroke.
Obesity and Metabolic Syndrome
Obesity is associated with stroke risk factors such as diabetes, high blood pressure, and unhealthy cholesterol levels. Obesity may also increase the risk for both ischemic and hemorrhagic stroke independently of these other risk factors. Weight that is centered around the abdomen (the so-called apple shape) has a particularly high association with stroke, as it does for heart disease, in comparison to weight distributed around hips (pear-shape).
Obesity is particularly hazardous when it is one of the components of metabolic syndrome. This syndrome is diagnosed when at least three of the following conditions are present: abdominal obesity, low HDL cholesterol, high triglyceride levels, high blood pressure, and insulin resistance. Because metabolic syndrome is a pre-diabetic condition that is significantly associated with heart disease, people with this syndrome are at increased risk for stroke even before diabetes develops. Lifestyle modifications (diet, exercise, weight loss) can help reduce the risk for stroke in people diagnosed with metabolic syndrome.
Other Risk Factors
Migraine
Studies suggest that migraine headache is a risk factor for stroke in both men and women, especially before age 50. The risk is higher for migraine accompanied by aura, which occur more frequently in women. Women who have migraine with aura and also smoke, or use oral contraceptives, have even greater risks for ischemic or hemorrhagic stroke.
Oral Contraceptives
Birth control pills, which contain estrogen, can increase stroke risk, especially for women who are older, have high blood pressure, or who smoke. The American Heart Association recommends that doctors screen patients for high blood pressure before prescribing oral contraceptives.
Pregnancy
For most women, pregnancy carries a very small risk for stroke. However, women who have high blood pressure (hypertension) during pregnancy have an increased risk for stroke. Hypertension during pregnancy can lead to preeclampsia, a dangerous condition marked by high blood pressure and increased protein in the urine. Preeclampsia is a risk factor for future hypertension and stroke, as is gestational diabetes (insulin resistance that occurs during late pregnancy). The post-partum period has the greatest risk for stroke.
The American Heart Association recommends that women who have high blood pressure during pregnancy or are at risk for preeclampsia be treated with daily low-dose aspirin until the time of delivery. A daily calcium supplement may also help prevent preeclampsia for women who do not consume enough calcium in their diets.
Erectile dysfunction
Men who have erectile dysfunction have a higher risk of stroke (both ischemic and hemorrhagic) than men without erectile dysfunction.
Sleep Apnea
Obstructive sleep apnea is a common sleep disorder that occurs when tissues in the upper airways come too close to each other during sleep, temporarily blocking the inflow of air. People with untreated sleep apnea are at increased risk for many heart problems, including stroke. Current guidelines recommend screening and treating sleep apnea in people who have had a stroke or TIA.
Sickle Cell Disease
People with sickle cell disease are at increased risk for stroke at a young age.
Depression
Some research suggests that depression may increase the risk for stroke.
NSAIDs
Nonsteroidal anti-inflammatory drugs (NSAIDs) such as ibuprofen (Advil, Motrin, generic) and diclofenac (Cataflam, Voltaren, generic) may increase the risk of stroke, especially for patients who have other stroke risk factors.