Antibiotics are the main treatment for UTIs. A variety of antibiotics are available, and choices depend on many factors, including whether the infection is complicated or uncomplicated or primary or recurrent. Treatment decisions are also based on the type of person (man or woman, a pregnant or nonpregnant woman, child, hospitalized or nonhospitalized person, or person with diabetes).
Due to the recent increase of drug-resistant bacteria, a doctor may also select an antibiotic based on the resistance rate in that geographic area.
Treatment for Uncomplicated UTIs
UTIs can often be successfully treated with antibiotics prescribed over the phone. In such cases, a health professional provides the people with 3 to 5-day antibiotic regimens without requiring an office urine test. This course is recommended only for women who have typical symptoms of cystitis, who are at low risk for recurrent infection, and who do not have symptoms (such as vaginitis) suggesting other problems. It is always best to have a urine culture done before starting antibiotics when possible.
Antibiotic Regimen
Oral antibiotic treatment cures nearly all uncomplicated UTIs, although the rate of recurrence remains high. To prescribe the best treatment, the doctor should be made aware of any drug allergies of the person.
The following antibiotics are commonly used for uncomplicated UTIs:
A recommended regimen is a 3-day course of trimethoprim-sulfamethoxazole, commonly called TMP-SMX (Bactrim, Septra, and generic). TMP-SMX combines the antibiotic trimethoprim with a sulfa drug. A single dose of TMP-SMX is sometimes prescribed in mild cases, but cure rates are generally lower than with 3-day regimens. Allergies to sulfa drugs are common and may be serious. Therefore another antibiotic may be prescribed for a patient who is sensitive to sulfa drugs.
Another first-line option is nitrofurantoin (Furadantin, Macrobid, Macrodantin, and generic). It is usually taken daily for 5 days.
Fosfomycin (Monurol) is not as effective as other antibiotics but may be used during pregnancy. Resistance rates to this drug are very low.
Fluoroquinolone antibiotics, also called quinolones, are only recommended for UTIs when other antibiotics cannot be used. Ciprofloxacin (Cipro, generic) is the quinolone antibiotic most commonly prescribed. Quinolones are usually given over a 3-day period. Pregnant women should not take these drugs.
Other antibiotics may also be used, including amoxicillin-clavulanate cefdinir, cefaclor, and cefpodoxime-proxetil. These drugs may be prescribed when other antibiotics are not appropriate. They are usually given in 3- to 7-day regimens.
After an appropriate course of antibiotic treatment, most people are free of infection. If the symptoms do not clear up within the first few days of therapy, doctors may suggest an alternate course of antibiotics. This may depend on the result of the urine culture. A urine culture may be ordered in order to identify the specific organism causing the condition if not done prior to starting antibiotics.
It should be noted that resistance to many of the commonly used antibiotics is growing and this is why it is now recommended to culture the urine before starting antibiotics. This helps reduce the overuse of these medications.
Treatment for Relapsing Infection
A relapsing infection (caused by treatment failure) occurs within 3 weeks in about 10% of women. Relapse is treated similarly to a first infection, but the antibiotics are usually continued for 7 to 14 days. Relapsing infections may be due to structural abnormalities, abscesses, or other problems that may require surgery. Such conditions should be ruled out.
Treatment for Recurrent Infections
Women who have 2 or more symptomatic UTIs within a 6-month period, or 3 or more episodes over the course of a year, may need preventive antibiotics. All women should use lifestyle measures to prevent recurrences.
Intermittent Self Treatment
Many, if not most, women with recurrent UTIs can effectively self-treat recurrent UTIs without going to a doctor. In general, this requires the following steps:
As soon as the person develops symptoms, she takes the antibiotic. Infections that occur less than twice a year are usually treated as if they were an initial attack, with single-dose or 3-day antibiotic regimens.
In some cases, she also performs a clean-catch urine test before starting antibiotics and sends it to the doctor for culturing to confirm the infection.
A woman should consult a doctor under the following circumstances:
If symptoms have not gone away within 48 hours of starting the antibiotic treatment
If there is a change in symptoms
If the person suspects that she is pregnant
If the person has more than 4 infections a year
Women who are not good candidates for self-treatment are those with impaired immune systems, previous kidney infections, structural abnormalities of the urinary tract, or a history of infection with antibiotic-resistant bacteria.
Postcoital Antibiotics
If recurrent infections are clearly related to sexual activity and episodes recur more than two times within a 6-month period, a single preventive dose taken immediately after intercourse is effective. Antibiotics for such cases include TMP-SMX, nitrofurantoin, cephalexin, or a fluoroquinolone (such as ciprofloxacin). Fluoroquinolones are not appropriate during pregnancy.
Continuous Preventive Antibiotics (Prophylaxis)
Continuous preventive (prophylactic) antibiotics are an option for some women who do not respond to other measures. With this approach, low-dose antibiotics are taken continuously for 6 months or longer.
Treatment for Kidney Infections (Pyelonephritis)
People with uncomplicated kidney infections (pyelonephritis) may be treated at home with oral antibiotics. Ciprofloxacin (Cipro, generic) or another fluoroquinolone is typically given but other antibiotics, such as trimethoprim-sulfamethoxazole (TMP-SMX), may be used. People with moderate-to-severe acute kidney infection and those with severe symptoms or other complications may need to be hospitalized. In such cases, antibiotics are usually given intravenously for several days. Chronic pyelonephritis may require long-term antibiotic treatment.
Treatments for Specific Populations
Treating Pregnant Women
Pregnant women should be screened for UTIs, since they are at high risk for UTIs and their complications. Antibiotics used for treating pregnant women with UTIs include amoxicillin, ampicillin, nitrofurantoin, and cephalosporins (cephalexin). Fosfomycin (Monurol) is not as effective as other antibiotics but is sometimes prescribed for pregnant women. In general, there is no consensus on which antibiotic is best for pregnant women although some types of antibiotics, such as fluoroquinolones and tetracyclines, should not be taken as they can cause harm to the fetus.
Pregnant women with asymptomatic bacteriuria (evidence of infection but no symptoms) have an increased risk for acute pyelonephritis in their second or third trimester. They need screening and treatment for this condition. In such cases, they should be treated with a short course of antibiotics (3 to 5 days). For an uncomplicated UTI, pregnant women may need longer-term antibiotics (7 to 10 days).
Treating Children with UTIs
Children with UTIs are generally treated with TMP-SMX, cephalexin (Keflex, generic) and other cephalosporins, or amoxicillin/clavulanic acid (Augmentin, generic). These drugs are usually taken by mouth in either liquid or pill form. Doctors sometimes give them as a shot or IV. Children usually respond to treatment within a few days. Prompt treatment with antibiotics may help prevent renal scarring.
Vesicoureteral reflux (VUR) is a concern for children with UTIs. (See Risk Factors section in this report.) VUR can lead to kidney infection (pyelonephritis), which can cause kidney damage. If the reflux of urine is not severe, the child has a good chance of growing out of this problem without any damage to the kidneys. The two treatment options for children with VUR that is more severe or has caused infections are long-term antibiotics to prevent infections or surgery to correct the condition. However, there is debate as to the benefit of these approaches. Current guidelines advise that antibiotics do not really help prevent recurrent UTIs in children, and that VUR itself may not substantially increase the risk for recurrent UTI.
Children with acute kidney infection are treated with various antibiotics including oral cefixime (Suprax) or a short course (2 to 4 days) of an intravenous (IV) antibiotic (typically gentamicin, given in one daily dose). An oral antibiotic then follows the IV.
Management of Catheter-Induced Urinary Tract Infections
Catheter-induced UTIs are very common, and preventive measures are extremely important. In-dwelling catheters should not be used unless absolutely necessary and they should be removed as soon as possible. Long-term catheter use is associated with increased risk for infections. For men, external catheters (condom catheters) may be an alternative to indwelling catheters.
Daily Catheter Hygiene
A typical catheter comes pre-connected and sealed and uses a drainage bag system. To prevent infection, some of the following tips may be helpful:
Drink plenty of fluids.
Make sure the catheter tube is free of any knots or kinks.
Clean the catheter and the area around the urethra with soap and water daily and after each bowel movement. (Women should be sure to clean front to back.)
Wash hands before touching the catheter or surrounding area.
Never disconnect the catheter from the drainage bag without careful instructions from a health professional on strict methods for preventing infection.
Keep the drainage bag off the floor.
Stabilize the bag against the leg using a leg strap, tape or some other system.
Antibiotics for Catheter-Induced Infections
People using catheters who develop UTIs with symptoms should be treated for each episode with antibiotics and the catheter should be removed, if possible, or changed. A major problem in treating catheter-related UTIs is that the organisms involved are constantly changing. Because there are likely to be multiple species of bacteria, doctors generally recommend an antibiotic that is effective against a wide variety of microorganisms.
Although high bacteria counts in the urine (bacteriuria) occur in most catheterized people, administering antibiotics to prevent a UTI is rarely recommended. Many catheterized people do not develop symptomatic UTIs even with high bacteria counts. If bacteriuria occurs without symptoms, antibiotic therapy has little benefit if the catheter is to remain in place for a long period.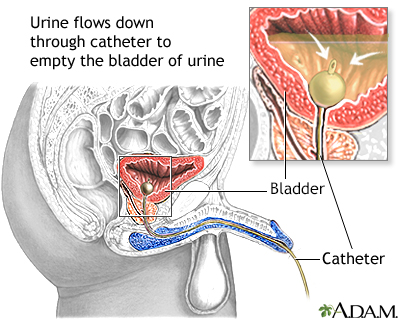 Catheterization is accomplished by inserting a catheter (a hollow tube, often with an inflatable balloon tip) into the urinary bladder. This procedure is performed for urinary obstruction, non-functioning bladder due to many different causes, following surgical procedures to the urethra, in unconscious people (due to surgical anesthesia or coma), or for any other problem in which the bladder needs to be kept empty (decompressed) and urinary flow ensured.