Diabetes increases the risk for many serious health complications. The good news is that during the past several decades, the rate of serious complications among people with diabetes has been decreasing, and more people are living longer and healthier lives.
There are 2 important approaches to preventing complications from type 1 diabetes.
Good control of blood glucose and keeping glycated hemoglobin (A1C) levels below or around 7%. This approach can help prevent complications due to vascular (blood vessel) abnormalities and nerve damage (neuropathy) that can cause major damage to organs, including the eyes, kidneys, and heart and can result in blindness, kidney failure, heart attacks, strokes, foot ulcers, infection of bones in the feet, and toe or foot amputation.
Managing risk factors for heart disease. Blood glucose control helps the heart. But it is also very important that people with diabetes control blood pressure, cholesterol levels, and other factors associated with heart disease, including stopping use of all tobacco products.
Diabetic Ketoacidosis
Diabetic ketoacidosis (DKA) is a life-threatening complication caused by a complete (or almost complete) lack of insulin. In DKA, the body produces abnormally high levels of blood acids called ketones. Ketones are by-products of fat breakdown that build up in the blood and appear in the urine. They are produced when the body starts burning much larger amounts of fat than usual. The buildup of ketones in the body is called ketoacidosis. Extreme stages of DKA can lead to coma and death.
For some people, DKA may be the first sign that someone has type 1 diabetes. In type 1 diabetes, it usually occurs when a person is not taking insulin as prescribed, runs out of insulin, or cannot afford to buy medication. Sometimes people intentionally reduce insulin doses in order to lose weight. DKA can also be triggered by a severe illness or infection that weakens the immune system and stresses the body. Malfunction of an insulin pump can also allow DKA to develop.
Symptoms and complications of DKA include:
Thirst and dry mouth
Frequent urination
Fatigue
Dry warm skin
Nausea and vomiting
Stomach pain
Deep and rapid breathing, sometimes with frequent sighing
Fruity breath odor
Confusion and decreased consciousness
Cerebral edema, or brain swelling, is a rare but very dangerous complication that can result in coma, brain damage, or death. This is most common in children with DKA. Other serious complications from DKA include aspiration pneumonia, acute kidney injury, and adult respiratory distress syndrome.
Life-saving treatment uses rapid replacement of fluids with a salt (saline) solution followed by insulin and potassium replacement.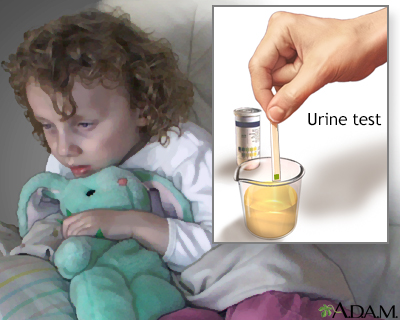 Ketoacidosis is a serious condition of glucose build-up in the blood and urine. A simple urine test can determine if high ketone levels are present.
Hyperglycemic Hyperosmolar Syndrome (HHS)
Hyperglycemic hyperosmolar syndrome (HHS) is a serious complication of diabetes that involves a cycle of increasing blood sugar levels and dehydration, usually without increasing blood ketones. HHS usually occurs in people with type 2 diabetes. But it can also occur with type 1 diabetes. It is often triggered by a serious infection or another severe illness, or by medications that lower glucose tolerance or increase fluid loss (particularly in people who are not drinking enough fluids).
Symptoms of HHS include high blood sugar levels, dry mouth, extreme thirst, dry skin, and high fever. HHS can lead to loss of consciousness, seizures, coma, and death.
Hypoglycemia
Tight blood sugar (glucose) control increases the risk of low blood sugar (hypoglycemia). Hypoglycemia occurs if blood glucose levels fall below normal. It is generally defined as a blood sugar below 70 mg/dL, although this level may not necessarily cause symptoms in all people.
Insufficient intake of food and excess exercise or alcohol intake may cause hypoglycemia. Usually the condition is manageable. Hypoglycemia can sometimes be severe or even life threatening, particularly if the person fails to recognize the symptoms, while continuing to take insulin or other hypoglycemic drugs. Beta-blocking medications, which are often prescribed for high blood pressure and heart disease, can mask symptoms of hypoglycemia.
Risk Factors for Severe Hypoglycemia
Specific risk factors for severe hypoglycemia include:
Attempting too-tight control of blood glucose and A1c levels
Long-term diabetes, even more likely when kidney problems are present
Not complying with treatment (taking insulin some days, but not on other days)
Infections such as gastroenteritis or respiratory illnesses
Taking rapid-acting insulin to correct high blood glucose without eating
Liver disease
Substance abuse, including alcohol use
Hypoglycemia unawareness
Hypoglycemia unawareness is a condition in which people become accustomed to hypoglycemic symptoms. They may no longer have any signs of hypoglycemia until the hypoglycemia becomes severe. It affects about 25% of people who use insulin, nearly always people with type 1 diabetes. In such cases, hypoglycemia appears suddenly, without warning, and can escalate to a severe level.
Previous hypoglycemia is the biggest risk factor for hypoglycemic unawareness. Even a single recent episode of hypoglycemia may make it more difficult to detect the next episode. With vigilant monitoring and by rigorously avoiding low blood glucose levels, people can often regain the ability to sense hypoglycemia symptoms. However, sometimes continuous glucose monitoring (CGM) is necessary to identify time periods when people are hypoglycemic. CGM studies have shown that many people with type 1 diabetes are sometimes unaware that their blood sugars are very low.
Symptoms of Hypoglycemia
Mild symptoms usually occur at moderately low and easily correctable levels of blood glucose. Not all people have the same symptoms. Many people with diabetes come to recognize their hypoglycemia symptom pattern over time and it is usually consistent. Early symptoms can include:
Sweating
Trembling
Hunger
Rapid heartbeat
Headache
Severely low blood glucose levels can cause neurologic symptoms, such as:
Confusion
Weakness
Disorientation
Combativeness
In rare and worst cases, coma, seizure, and death
[For information on preventing hypoglycemia or managing an attack, see the Home Management section of this report.]
Heart Disease and Stroke
People with diabetes are more likely than people who do not have diabetes to die from cardiovascular complications, including heart attack and stroke. Diabetes affects the heart in many ways:
Both type 1 and 2 diabetes accelerate the progression of atherosclerosis (hardening of the arteries). Diabetes is often associated with low HDL ("good" cholesterol) and high triglycerides. This can lead to coronary artery disease, heart attack, or stroke.
In type 1 diabetes, high blood pressure (hypertension) usually develops if the kidneys become damaged. High blood pressure is another major cause of heart attack, stroke, and heart failure. Children with diabetes are also at risk for hypertension.
Impaired nerve function (neuropathy) associated with diabetes also causes heart abnormalities.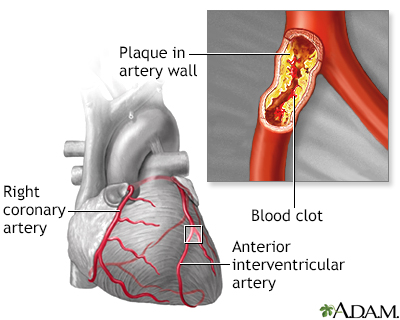 Atherosclerosis is a disease of the arteries in which fatty material is deposited in the vessel wall, resulting in narrowing and eventual impairment of blood flow. Severely restricted blood flow in the arteries to the heart muscle leads to symptoms such as chest pain (often with activity). Atherosclerosis shows no symptoms until a complication occurs.


Click the icon to see an image of kidney anatomy.
Kidney Damage (Nephropathy)
Kidney disease (nephropathy) is a very serious complication of diabetes. With this condition, the tiny filters in the kidney (called glomeruli) become damaged and leak protein into the urine. Over time this can lead to kidney failure. Urine tests showing microalbuminuria (small amounts of protein in the urine) are important markers for kidney damage.
Diabetic nephropathy is the leading cause of end-stage renal disease (ESRD). People with ESRD have 13 times the risk of death compared to other people with type 1 diabetes. If the kidneys fail, dialysis or transplantation is required. Symptoms of kidney failure may include swelling in the feet and ankles, itching, fatigue, and pale skin color. The outlook of ESRD has greatly improved during the last four decades for people with type 1 diabetes, and fewer people with type 1 diabetes are developing ESRD.
Neuropathy
Diabetes reduces or distorts nerve function, causing a condition called neuropathy. Neuropathy refers to a group of disorders that affect nerves. The two main types of neuropathy are:
Sensory. Affects nerves in the toes, feet, legs, hand, and arms.
Autonomic. Affects nerves that help regulate digestive, bowel, bladder, heart, and sexual function. Autonomic dysfunction also affects sweat glands and can cause very sweaty or dry feet.
There are also motor (muscle) and joint neuropathy that can affect the feet.
Sensory neuropathy particularly affects the feet and legs. It is a common complication for people with type 1 or type 2 diabetes. The most serious consequences of neuropathy occur in the legs and feet and pose a risk for skin ulcers and infections in the bone and, in severe cases, amputation. Peripheral neuropathy usually starts in the toes and moves up the legs, and can also affect the fingers, hands, and arms (called a stocking-glove distribution). Symptoms can include:
Tingling
Weakness
Burning sensations
Loss of the sense of warm or cold
Numbness (if the nerves are severely damaged, the person may be unaware that a blister or minor wound has become infected)
Deep pain
Autonomic neuropathy can cause:
Extremely dry feet, which can lead to fungal and other skin infections.
Digestive problems (such as constipation, diarrhea, nausea, and vomiting).
Bladder infections and incontinence.
Erectile dysfunction.
Heart problems. Neuropathy may mask angina, the warning chest pain for heart disease and heart attack. People with diabetes should be aware of other warning signs of a heart attack, including sudden fatigue, sweating, shortness of breath, nausea, and vomiting.
Rapid heart rates.
Lightheadedness when standing up (orthostatic hypotension).
Diabetic gastroparesis is a type of neuropathy that affects the digestive tract. It is triggered by high blood sugar, which over time can damage the vagus nerve. The result of this damage is that the digestive system takes too long to move and digest food. Undigested food and the delay in stomach emptying can cause blood glucose levels to rise unpredictably, and make diabetes more difficult to control. Symptoms of gastroparesis include heartburn, nausea, abdominal bloating, feeling full after eating only a small amount of food, and vomiting of undigested food several hours after a meal. Gastroparesis generally only occurs in people who already have severe peripheral neuropathy. People with poorly-controlled blood sugars often have symptoms of gastroparesis, but this is reversible over weeks to months if blood glucose control improves.
Blood sugar control is an essential component in the treatment for neuropathy. Studies show that tight control of blood glucose levels delays the onset and slows progression of neuropathy. Heart disease risk factors may increase the likelihood of developing neuropathy. Lowering triglycerides, losing weight, reducing blood pressure, and quitting smoking may help prevent the onset of neuropathy.
Foot Ulcers and Amputations
About 15% of people with diabetes have serious foot problems. They are the leading cause of hospitalizations for these people. The consequences of both poor circulation and peripheral neuropathy make this a common and serious problem for all people with diabetes. Diabetes is responsible for more than half of all lower limb amputations performed in the US. Most amputations start with foot ulcers.
People with diabetes who are overweight, smokers, and have a long history of diabetes tend to be at most risk. People who have the disease for more than 20 years and are taking insulin are at the highest risk. Related conditions that put people at risk include peripheral neuropathy, peripheral artery disease (PAD), foot deformities, and a history of ulcers.
Foot ulcers usually develop from minor injury that goes unnoticed because of neuropathy. Infections can sometimes make the ulcer worse and can involve muscle and bone. About one-third of foot ulcers occur on the big toe. People with diabetes and neuropathy should check their feet every night before going to bed to look for redness, blisters, or ulcers. Calluses in areas where the feet experience the most pressure do not protect against foot ulcers.
Charcot Foot
Charcot foot or Charcot joint (medically referred to as neuropathic arthropathy) is a degenerative condition that affects the bones and joints in the feet. It is associated with the nerve damage that occurs with neuropathy. Early changes appear similar to an infection, with the foot becoming swollen, red, and warm and can be caused by twisting the foot or ankle while walking or stepping off a stair. Gradually, the affected foot can become deformed. The joints may shift, change shape, and become unstable and bones can fracture over time.
Charcot foot typically develops in people who have neuropathy to the extent that they cannot feel sensation in the foot and are not aware of an existing injury. Instead of resting an injured foot or seeking medical help, the person often continues normal activity, causing further damage.
Retinopathy and Eye Complications
Diabetes accounts for thousands of new cases of blindness annually and is the leading cause of new cases of blindness in adults ages 20 to 74 years. The most common eye disorder in diabetes is retinopathy. People with diabetes are also at higher risk for developing cataracts and certain types of glaucoma.
Retinopathy is a condition in which the retina becomes damaged. It generally occurs in one or two phases:


Click the icon to see an image of diabetic retinopathy.
The early and more common type of this disorder is called nonproliferative or background retinopathy. The blood vessels in the retina are abnormally weakened. They rupture and leak, and waxy areas may form in the retina. If these processes affect the central portion of the retina, swelling may occur, causing reduced or blurred vision.
If the capillaries become blocked and blood flow is cut off, soft, "woolly" areas may develop in the retina's nerve layer. These woolly areas may signal the development of proliferative retinopathy. In this more severe condition, new abnormal blood vessels form and grow on the surface of the retina. They may spread into the cavity of the eye or bleed into the back of the eye. Major hemorrhage or retinal detachment can result, causing severe visual loss or blindness. The sensation of seeing flashing lights may indicate retinal detachment.
Infections
Respiratory Infections
People with diabetes face a higher risk for influenza and its complications, including pneumonia. Everyone with diabetes should have annual influenza vaccinations and a vaccination against pneumococcal pneumonia.
People with diabetes are at higher risk of severe coronavirus disease 2019 (COVID-19). Risk of needing to be in the hospital and dying from COVID-19 is about three times higher than for people without diabetes. The biggest increase in risk due to diabetes is for patients with higher blood sugar levels (A1C above 10%).
Urinary Tract Infections
Women with diabetes face a significantly higher risk for urinary tract infections, which are likely to be more complicated and difficult to treat than in the general population.
Hepatitis
People with diabetes are at increased risk for contracting the hepatitis B virus, which is transmitted through blood and other bodily fluids. Exposure to the virus can occur through sharing finger-stick devices, blood glucose monitors, or insulin pens. Adults newly diagnosed with type 1 or type 2 diabetes should get hepatitis B vaccinations.
Depression
Diabetes doubles the risk for depression. Depression, in turn, may increase the risk for hyperglycemia and complications of diabetes.
Osteoporosis
Type 1 diabetes is associated with slightly reduced bone density, putting people at risk for osteoporosis and possibly fractures.
Other Complications
Diabetes increases the risk for other conditions, including:
Hearing loss.
Periodontal disease.
Carpal tunnel syndrome and other nerve entrapment syndromes.
Nonalcoholic fatty liver disease, also called nonalcoholic steatohepatitis (NASH); a particular danger for people who are obese. This is now one of the leading causes of cirrhosis (a failing liver) and liver transplantation.
Very aggressive, rapidly progressive infections below the skin. They often occur in the groin area (called Fournier's gangrene), but can also be on the legs or abdominal wall.
Specific Complications in Women
Diabetes can cause specific complications in women. Women with diabetes have an increased risk of recurrent yeast infections. In terms of sexual health, diabetes may cause decreased vaginal lubrication, which can lead to pain or discomfort during intercourse.
Women with diabetes should be aware that certain types of medication can affect their blood glucose levels. For example, birth control pills can raise blood glucose levels. Long-term use (more than 2 years) of birth control pills may increase the risk of certain health problems.
Diabetes and Pregnancy
Diabetes during pregnancy can increase the risk for birth defects. High blood sugar levels (hyperglycemia) can affect the developing fetus during the critical first 6 weeks of organ development. Women with diabetes (either type 1 or type 2) who are planning on becoming pregnant should strive to maintain good glucose control for 3 to 6 months before pregnancy.
It is also important for women to closely monitor their blood sugar levels during pregnancy. For women with type 1 diabetes, pregnancy can affect their insulin dosing needs. Insulin dosing may also need to be adjusted during and following delivery. [For more information, see "Treatment of Diabetes During Pregnancy" in the Treatment of Complications section of this report.]
Diabetes and Menopause
The changes in estrogen and other hormonal levels that occur during the transition to menopause (perimenopause) can cause major fluctuations in blood glucose levels. Women with diabetes also face an increased risk of premature menopause, which can lead to higher risk of heart disease.
Specific Problems for Adolescents with Type 1 Diabetes
Lack of Blood Glucose Control
Control of blood glucose levels is generally very poor in adolescents and young adults. Adolescents with diabetes are at higher risk than adults for ketoacidosis resulting from non-adherence with insulin management. Young people who do not control glucose are also at high risk for permanent damage in small blood vessels, such as those in the eyes. Many of these problems are made worse by the transition from pediatric care to adult medicine care. Many institutions have specific adolescent diabetes clinics to help to address this issue.
Eating Disorders
Up to a third of young women with type 1 diabetes have eating disorders and underuse insulin to lose weight. Anorexia and bulimia pose significant health risks in any young person. But they can be particularly dangerous for people with diabetes.