Physical Examination
A detailed physical examination of the whole body is very important to identify or rule out the spread of cancer to other areas, and to determine the person's general condition. For example, questions about dizziness or headaches can help the doctor determine if the cancer has spread to the brain. Bone or joint pain might suggest that the cancer has spread to the bone. The doctor will also look for head and neck symptoms that might indicate other tumors. Also, the person's weight loss and ability to function are two very important factors for predicting survival following treatment. People who are mobile and have lost less than 10% of their pre-treatment weight tend to have better survival rates.
Chest X-Rays
In a small percentage of cases, a routine chest x-ray reveals the first signs of lung cancer. Usually, however, symptoms of existing lung cancer, such as coughing, chest pain, and blood in the sputum, will lead to a chest x-ray. If NSCLC is present, chest x-rays may show lesions (damaged or abnormal tissue) in the center of the lung, cavities formed by squamous cell carcinoma, or a lace-like pattern of cells spreading through the lungs. By the time lung cancer is diagnosed by chest x-rays, however, it has often spread so far that it cannot be surgically cured. Four major studies found no survival benefits in early detection from chest x-rays and sputum screening. Computed tomography (CT) scans have shown to be better than chest x-rays in detecting nodules and lung cancer. Regular screening with chest x-rays for lung cancer is therefore not recommended.
Computed Tomography (CT)
CT, particularly the specific technique called low-dose spiral (or helical) CT, is more effective than x-rays for detecting cancer in patients with suspected lung cancer. It is the standard imaging procedure for determining if and where the cancer has spread (metastasized). Surgeons also use CT scans to evaluate patients before lung surgery.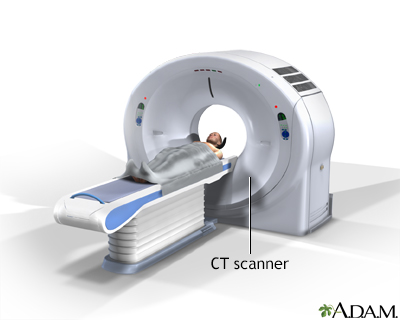 CT stands for computerized tomography. In this procedure, a thin x-ray beam is rotated around an area of the body. Using very complicated mathematical processes called algorithms, the computer generates a 3D image of a section of the body. CT scans are very detailed.
The use of helical CT for widespread early screening of people who do not show symptoms (asymptomatic) is currently under debate.

Click the icon to view an image showing a CT scan of bronchial cancer.
The National Lung Cancer Screening Trial found that early lung cancer detection by having low-dose CT scans yearly for 3 years led to 20% less cancer deaths in the heavy smoker group. The American Cancer Society, the American Lung Association, the National Comprehensive Cancer Network, and the U.S. Preventive Services Task Force now recommend the following:
Annual low-dose CT screening for current and former smokers who are between the ages of 50 and 80 years, have a 20 pack-year smoking history, who still smoke or have quit within the past 15 years, and who have no history of lung cancer.
Chest x-rays should not be offered as a screening tool.
It is important to note that screening CT scans produce many false-positive results. This means that many people have suspicious findings on a CT scan that do not turn out to be cancer after a lung biopsy is done. More research is needed to determine whether there is an overall benefit to CT screening for all smokers. People not meeting the above criteria are unlikely to benefit from lung cancer screening at this time.
Other Imaging Tests for Staging and Tracking Cancer
While CT is the standard imaging procedure for determining NSCLC, other imaging tests are also useful for staging and tracking lung cancers. Staging means finding out how advanced the cancer is.
A bone scan is done to check for spread of cancer to the bones for those with bone pain, or other findings suggesting spread of cancer to the bones.
Positron Emission Tomography (PET)
PET, specifically FDG-PET, can diagnose lung tumors as small as 1 centimeter with very high accuracy. With FDG-PET, the person is first injected with a specially formulated, radioactive liquid sugar (called FDG), and then studied with a special machine.
PET is a good imaging technique for determining the stage in patients thought to have early stage lung cancer after other testing. These people are considered candidates for surgery intended to cure. But if a PET scan identifies previously undetected spread of the cancer elsewhere in the body, the person may be able to avoid unwarranted surgery.
PET works best when used with CT scans. An imaging tool known as PET/CT is often used, which allows both types of scans to be done at the same time. However, PET/CT may also wrongly diagnose some people as having more advanced cancer than they actually have, possibly leading to the incorrect treatment.
Magnetic Resonance Imaging (MRI)
MRI, an imaging procedure that uses radio wave energy, is frequently used instead of CT scanning to locate brain and bone tumors that have spread from the lung. Importantly, since the brain always uses high amounts of sugar, a FDG-PET scan is not recommended for detecting brain metastases.
Biopsy Procedures
Biopsies of lung tissue or liquid are needed to confirm lung cancer. This requires invasive procedures that may vary from simple needle aspiration to various types of endoscopic procedures to chest surgery.
A new technique called liquid biopsy is currently being evaluated in combination with genetic testing of biopsied tissue for NSCLC diagnosis and treatment planning. This experimental approach may be especially useful for diagnosing specific mutations such as EGFR or ALK mutations in cases when the lung tumor sample is either not available or not large enough. The liquid biopsy sample used may be serum or other cell-free body fluid. Next generation sequencing (NGS) is then used to test for genetic mutations. Given that targeted agents are now available for specific mutations, detecting these mutations is important when deciding the treatment.
Needle Aspiration
Sometimes, a biopsy specimen is obtained by inserting a needle between the ribs, and then guiding it with the use of CT scans, ultrasound, or fluoroscopy (a device allowing an x-ray view). Specific techniques include transbronchial or transthoracic needle aspiration (TBNA or TTNA), endoscopic ultrasound-guided needle aspiration (EUS-NA) and transesophageal endoscopic ultrasound-guided fine-needle aspiration (EUS-FNA). Their use depends on how much of the area can be observed with less invasive imaging methods. There is a 5% to 10% risk for bleeding or collapsed lung with needle aspiration.
Thoracoscopy
Thoracoscopy is usually very effective for diagnosing cancer in the outer areas of the lungs, or those involving the pleura (membrane surrounding the lungs). This is a surgical procedure that uses a fiber optic tube to view the area. The procedure requires general anesthesia. The surgeon passes surgical instruments and a fiber optic tube through a small incision in the chest. The tube has a camera in it, which allows the surgeon to look at the lungs on a video screen.
Bronchoscopy
Bronchoscopy can help locate cancer that develops in the central areas and major airways of the lung (usually squamous or small-cell cancer). The procedure is done as follows:
The person is given a local anesthetic, oxygen, and sedatives.
The doctor inserts a bronchoscope, a hollow flexible tube, often containing a fiber optic light source, into the lower respiratory tract through the nose or mouth.
The tube acts like a telescope into the body, allowing the doctor to see the windpipe and major airways. In a procedure called fluorescence bronchoscopy, the doctor injects the person with a drug that makes cancer tissue appear red when exposed to laser light from the bronchoscope.
The surgeon removes specimens for biopsy, ideally combining techniques to include cutting tissue, brushings, and a washing process called bronchoalveolar lavage (BAL). BAL involves injecting saline through the bronchoscope into the lung and then immediately suctioning the fluid back through the hollow tube of the bronchoscope. The fluid is then analyzed in the laboratory. Both brushing and washing procedures may be very valuable additions to this procedure.
Bronchoscopy is usually very safe, but complications can occur. They include:
Allergic reactions to the sedatives or anesthetics
Asthma attacks in susceptible patients
Bleeding
People may develop a fever after the procedure.


Click the icon to view an image about bronchoscopy.


Click the icon to view an image of a bronchoscope.
Mediastinoscopy
Mediastinoscopy uses a tube inserted in the central part of the chest to locate the appropriate areas for biopsy. It is performed if the physician suspects that cancer has spread to nearby lymph nodes but has not yet spread to other parts of the body, and to confirm negative biopsy results. This procedure is slowly being replaced by endoscopic ultrasound and endobronchial ultrasound methods, as well as video mediastinoscopy.
Endoscopic Ultrasound (EUS) and Endobronchial Ultrasound (EBUS)
In EUS and EBUS, an ultrasound guided endoscope or bronchoscope is passed through the mouth into the trachea. No incisions are needed. The airway and surrounding structures and lymph nodes can be viewed and sampled with these techniques. The tests are highly accurate and often complement FDG-PET in staging. Performed together, the tests are more sensitive than either alone, and may become the next gold standard in lung cancer staging.
Laboratory Tests
Sputum Analysis for Presence of Cancer Cells (Sputum Cytology)
Analysis of coughed-up sputum, performed as a screening test for lung cancer, is often done along with chest x-rays. This method has not reduced death rates. Recent improvements in this screening technique are under study.
Sputum analysis may also be used to diagnose lung cancer in someone with signs of lung cancer. However, it is not 100% accurate. If a sputum analysis does not show cancer cells, other tests are performed.
Biomarkers
Biologic markers, called biomarkers, are high levels of substances that are released by tumors and indicate the presence of specific cancers. Biomarkers can be found in sputum, blood, and tissue samples. They can include:
Proteins
Enzymes
Hormones
Amino-acid compounds
Antigens (identified by antibodies that specifically target them)
Growth factors
Other chemicals
A number of these biomarkers are being evaluated alone or in combination as either screening tools or as potential markers for the risk of disease progression. Some of these biomarkers may be detectable 1 to 3 years before a clinical diagnosis of lung cancer. The potential for this early diagnosis could mean an improvement in lung cancer survival in the future.
Other Tests
As part of the doctor's initial examination, patients may have a pulmonary function test and breath analysis to evaluate lung health and capacity. The doctor may also take a complete history of the heart and lungs, because they are often involved in complications following lung cancer surgery.