Lifestyle changes can help reduce stress on affected joints.
Exercise
Joints need motion to stay healthy. Long periods of inactivity cause the arthritic joint to stiffen and the adjoining tissue to waste away (atrophy). A moderate exercise program that includes low-impact aerobics and power and strength training has benefits for people with osteoarthritis. Even light-intensity exercise can help prevent osteoarthritis progression and disability.
Exercise helps:
Promote weight loss.
Reduce stiffness and increase flexibility. It may also help improve the strength and elasticity of knee cartilage.
Improve muscle strength, which in turn improves balance and endurance.
Reduce stress and improve feelings of wellbeing, which helps people cope with the emotional burden of pain.
Exercise is generally recommended for all OA patients. Exercise especially helps people with mild-to-moderate osteoarthritis in the hip or in the knee. Many people who begin an aerobic or resistance exercise program report less disability and pain. They are better able to perform daily chores and remain more independent than their inactive peers. Older people and those with medical problems should always check with their doctors before starting an exercise program.
Three types of exercise are best for people with osteoarthritis:
Strengthening and resistance exercise
Range-of-motion exercise
Aerobic, or endurance, exercise
Strengthening and Resistance Exercise
Strengthening exercises include isometric exercises (pushing or pulling against static resistance). Isometric training builds muscle strength while burning fat, helps maintain bone density, and improves digestion. For people with arthritis in the hip or knees, exercises that strengthen the muscles of the upper leg are important.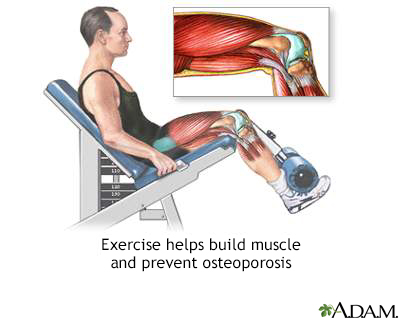 Exercise, such as weightlifting, helps build muscle that is usually lost with age and puts stress on bones, keeping them strong and healthy.
Range-of-Motion Exercise
These exercises increase the amount of movement in joints. In general, they are stretching exercises. The best examples are yoga and tai chi, which focus on flexibility, balance, and proper breathing. The latest clinical guidelines from the American College of Rheumatology strongly recommend tai chi for osteoarthritis of the hip and knee.
Aerobic Exercise
Aerobic exercises help control weight and may reduce inflammation in some joints. Low-impact workouts also help stabilize and support the joint. Cycling, walking, elliptical training, and cross-country skiing can be beneficial for people with osteoarthritis. However, weight-bearing exercise and even bicycling can place added stress on hips, knees, or ankles when arthritis is already present. Swimming or exercising in water is highly recommended. People with osteoarthritis should avoid high-impact sports such as jogging, tennis, and racquetball if they cause pain.


Click the icon to see an image of walking for health.
Weight Reduction
Overweight people with osteoarthritis can lessen the shock on their joints by losing weight. Knees, for example, sustain an impact 3 to 5 times the bodyweight when descending stairs. Losing 5 pounds of weight can eliminate 20 pounds of stress on the knee. The greater the weight loss achieved, the greater the benefit will be. The American Academy of Orthopedic Surgeons recommends that people with a body mass index (BMI) greater than 25 should try to lose at least 5% of their body weight.
Weight reduction is best achieved through both diet and exercise. Studies indicate that for overweight people with osteoarthritis, a combination of diet and exercise is the most effective way to help reduce pain and improve functioning.
Physical Therapy
Physical therapy can be helpful for osteoarthritis by teaching you how to strengthen muscles that support a joint and to add flexibility to a joint.
A physical therapist will use a variety of techniques to help increase strength, flexibility, and range of motion in the joints. The therapist will use hands-on treatment and may also apply other modalities.
For example, ultrasound therapy uses high-energy sound waves to produce heat within the tissue. The therapist applies gel to the affected area (usually the knee) and moves a handheld ultrasound transducer over the joint. There is, however, no clear evidence that this therapy provides much carryover benefit.
A physical therapist can show you ways to more easily perform daily tasks of living without putting stress on your joints. Your therapist can recommend how to make changes in your workplace or work tasks to avoid repetitive or damaging motions. Your therapist may also advise you on hot or cold treatments to use for pain.
Heat and Ice
Ice
When a joint is inflamed (particularly in the knee) applying ice for 20 to 30 minutes can be helpful. If an ice pack is not available, a package of frozen vegetables works just as well.
Heat Treatments
Soaking in a warm bath or applying a heating pad may help relieve stiffness and pain.
Mechanical Aids
A wide variety of devices are available to help support and protect joints, although it is unclear how effective they are. Some of these devices include splints or braces, and shoe inserts or orthopedic shoes. However, evidence suggests that lateral wedge insoles are not helpful for knee osteoarthritis. An offloading (also called unloading) brace is commonly used for knee osteoarthritis to help transfer the weight off the affected joint.
Assistive Devices
There are many different types of assistive devices that can help make your life easier in the home. Kitchen gadgets, such as jar openers, assist with gripping and grabbing. Door-knob extenders and key turners are helpful for people who have trouble turning their wrists. Bathrooms can be fitted with shower benches, grip bars, and raised toilet seats. An occupational therapist can advise you on choosing the right kinds of assistive devices.
Pain Management
Relaxation
Relaxation techniques such as guided imagery and breathing exercises may help some people better cope with chronic pain.
Acupuncture
Some people use acupuncture to reduce osteoarthritis pain. The technique is painless and involves the insertion of small fine needles at select points in the body. Acupuncture is considered a safe alternative medicine approach. Some, but not all, studies have found that acupuncture is effective for treating chronic pain and can help provide pain relief for osteoarthritis.
TENS
Transcutaneous electric nerve stimulation (TENS) uses low-level electrical pulses to suppress pain. A variant (sometimes called percutaneous electrical nerve stimulation, or PENS) applies these pulses through a small needle to acupuncture points. Recent studies have not found improvements with TENS treatment, and the American College of Rheumatology guidelines recommend against its use for osteoarthritis.
Massage
Massage therapy may help provide short-term pain relief for some people. It is important to work with an experienced massage therapist who understands how not to injure sensitive joint areas.
Herbs and Dietary Supplements
Glucosamine and Chondroitin
Glucosamine hydrochloride and chondroitin sulfate are natural substances that are part of the building blocks found in and around cartilage. For many years, researchers have been studying whether these dietary supplements really work for relieving osteoarthritis pain. Earlier studies suggested a potential benefit from these supplements.
However, more recent high-quality studies involving large numbers of patients have indicated that glucosamine and chondroitin, either alone or in combination, do not seem to work any better than a placebo for relieving symptoms of osteoarthritis.
Based on these studies, the American College of Rheumatology recommend against the use of these supplements.
Generally, manufacturers of herbal remedies and dietary supplements do not need FDA approval to sell their products. Just like a drug, herbs and supplements can affect the body's chemistry, and therefore have the potential to produce side effects that may be harmful. There have been several reported cases of serious and even lethal side effects from herbal products. Always check with your doctor before using any herbal remedies or dietary supplements.