Having diabetes does not change the kinds of foods you should eat. Nutritious foods can improve everyone's health. Choose foods that keep glucose levels in good control and that provide enough calories to maintain a healthy weight. If you monitor your blood glucose consistently, you will learn how different foods effect blood glucose level.
The amount of each type of food you should eat depends on your diet, your weight, how often you exercise, as well as other existing health risks. Everyone has individual needs, which is why you should work with your doctor and, possibly, a dietician to develop a meal plan that works for you.
But there are some solid, general recommendations to guide you. The Diabetes Food Pyramid, which resembles the old USDA food guide pyramid, splits foods into six groups in a range of serving sizes. The Diabetes Food Pyramid differs in that that food groups are based on carbohydrate and protein content instead of their food classification type. A person with diabetes should eat more of the foods in the bottom of the pyramid (grains, beans, vegetables) than those on the top (fats and sweets). This diet will help keep your heart and body systems healthy.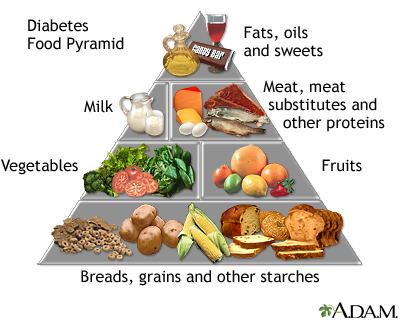 Grains, Beans, and Starchy Vegetables
(6 or more servings)
Foods like bread, grains, beans, rice, pasta, and starchy vegetables are at the bottom of the pyramid because they should serve as the foundation of your diet -- together as a group, they are loaded with vitamins, minerals, fiber, and healthy carbohydrates. But the key is, choose sources with plenty of fiber. Choose whole-grain foods such as whole-grain bread or crackers, tortillas, bran cereal, brown rice, or beans. Use whole-wheat or other whole-grain flours in cooking and baking. Eat more low-fat breads such as bagels, tortillas, English muffins, and pita bread.
For snacks, try pretzels or low-fat crackers.
1 slice bread
1/2 small bagel, English muffin, or pita bread
1/2 hamburger or hot dog bun
4 - 6 crackers
1/2 cup cooked cereal or pasta
1/3 cup cooked rice
3/4 cup dry cereal
1/2 cup cooked beans, lentils, peas, or corn
1 small potato
1 cup winter squash
1/2 cup sweet potato or yam
A serving can be:
Vegetables
(3 - 5 servings)
Choose fresh or frozen vegetables without added sauces, fats, or salt. You should opt for more dark green and deep yellow vegetables, such as spinach, broccoli, romaine, carrots, and peppers.
1 cup raw vegetables
1/2 cup cooked vegetables
1/2 cup tomato or vegetable juice
A serving can be:
Fruits
(2 - 4 servings)
Choose whole fruits more often than juices. They have more fiber. Citrus fruits, such as oranges, grapefruits, and tangerines, are best. Opt for fruit juices without added sweeteners or syrups.
1 small fresh fruit
1/2 cup canned fruit
1/4 cup dried fruit
1/2 cup fruit juice
A serving can be:
Milk
(2 - 3 servings)
Choose low-fat or nonfat milk or yogurt. Yogurt has natural sugar in it, but it can also contain added sugar or artificial sweeteners. Yogurt with artificial sweeteners has fewer calories than yogurt with added sugar.
A serving can be:
Meat, Fish, and Meat Substitutes
(2 - 3 servings)
Choose fish and poultry more often. Remove the skin from chicken and turkey. Select lean cuts of beef, veal, pork or wild game. Trim all visible fat from meat. Bake, roast, broil, grill, or boil instead of frying.
2 - 3 oz. cooked lean meat, poultry, or fish
1/2 - 3/4 cup tuna
2 - 3 oz. cheese
1 egg*
2 Tbsp. peanut butter*
4 oz. tofu*
A serving can be:
*equivalent to 1 oz. of meat
Fats, Sweets, and Alcohol
In general, you should limit your intake of fatty foods, especially those high in saturated fat, such as hamburger, cheese, bacon, and butter. Sweets are high in fat and sugar, so keep portion sizes small.
1/2 cup ice cream
1 small cupcake or muffin
2 small cookies
A serving can be:
If you choose to drink alcohol, limit the amount and have it with a meal. Check with your health professional about a safe amount for you.
Another thing to keep in mind: Know how to interpret food labels and consult them when making food decisions.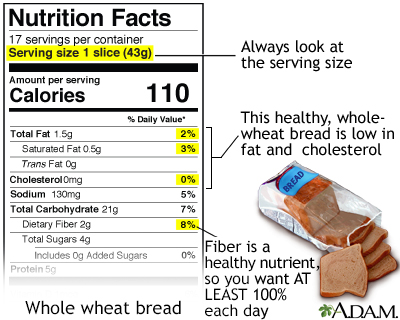 References
Warshaw HS. Diabetes Meal Planning Made Easy: How to Put the Food Pyramid to Work for Your Busy Lifestyle. 2nd Edition. Alexandria VA: American Diabetes Association; 2006.
American Diabetes Association. Nutrition recommendations and interventions for diabetes -- 2006. Diabetes Care. 2006;29:2140-2157.
---
Review Date: 6/24/2011
Reviewed By: Nancy J. Rennert, MD, FACE, FACP, Chief of Endocrinology & Diabetes, Norwalk Hospital, Associate Clinical Professor of Medicine, Yale School of Medicine, New Haven, CT. Review provided by VeriMed Healthcare Network. Also reviewed by David Zieve, MD, MHA, Medical Director, A.D.A.M., Inc.
The information provided herein should not be used during any medical emergency or for the diagnosis or treatment of any medical condition. A licensed medical professional should be consulted for diagnosis and treatment of any and all medical conditions. Links to other sites are provided for information only -- they do not constitute endorsements of those other sites. © 1997- A.D.A.M., a business unit of Ebix, Inc. Any duplication or distribution of the information contained herein is strictly prohibited.