Sure, a massage is relaxing but. It can be far more than a totally self-indulgent luxury. Researchers are taking this ancient healing art's power to calm and heal seriously. For example, the National Center for Complementary and Alternative Medicine (NCCAM) at the National Institutes of Health (NIH) is sponsoring studies to identify how massage may be most helpful.
According to the NCCAM, an estimated 18 million U.S. adults and 700,000 children used massage therapy in 2007 (the last year statistics are available) for a variety of health-related purposes, including pain relief, stress reduction and relaxation, sports injury rehabilitation and to aid general wellness.
Massage basics
Massage therapy has been practiced in numerous cultures for thousands of years. Various techniques are described in ancient texts from China, Japan, India, Arabic nations, Egypt, Greece and Rome. Greek physician Hippocrates, known as the father of medicine, wrote about massage's benefits and called it "the art of rubbing."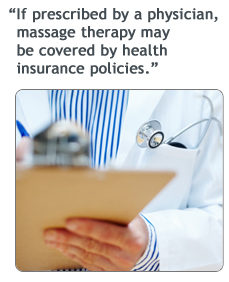 Massage involves pressing, rubbing and manipulating skin, muscles, tendons and ligaments through techniques that range from light stroking to applying deep pressure. Popular types of massage include:
Swedish massage. A gentle form of massage that incorporates kneading, deep circular movements, vibration and tapping.
Deep-tissue massage. This technique, often used to help soothe muscle damage from injuries, uses slow, forceful strokes to target deep layers of muscle and connective tissue.
Trigger point massage. A type of massage therapy that focuses on sensitive areas of tight muscle fibers that can result from injury or overuse of muscles.
Most states, but not all, regulate massage therapy. States that license massage therapists require them to have a minimum of 500 hours of training at an accredited institution, meet specific continuing education requirements and pass a national exam. They are also required to carry malpractice insurance.
Generally considered part of complementary and alternative medicine, the NCCAM points out that massage therapy is increasingly being offered along with standard treatment for many medical conditions and situations. If prescribed by a physician, massage therapy may be covered by health insurance policies.
What the research shows
The NCCAM states that research has found massage therapy can be helpful in treating a variety of medical conditions, from high blood pressure to immune system problems. Here's a look at some recent studies that provide growing evidence massage not only feels good -- but can be good for your health, too.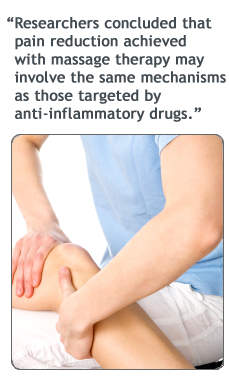 A short, 10-minute Swedish-style massage session can reduce inflammation, helping muscles recover after a hard workout. Research published in Science Translational Medicine by scientists from the Buck Institute for Research on Aging and McMaster University in Hamilton Ontario that found massage reduces inflammation on a cellular level and promotes the growth of new mitochondria ( energy-producing units in the cells ) in skeletal muscle. The researchers concluded the pain reduction achieved with massage therapy may involve the same mechanisms as those targeted by anti-inflammatory drugs. "There's general agreement that massage feels good, now we have a scientific basis for the experience," Simon Melov, PhD., who headed the analysis of the tissue samples from young male athletes, said in a media statement.
An NIH-sponsored study of 380 people with advanced cancer, published in the Annals of Internal Medicine, found that massage therapy may have immediate benefits on pain and mood among patients with terminal cancer. "This study is important because it shows massage is a safe and effective way to provide immediate relief to patients with advanced cancer, "said Jean S. Kutner, MD, Associate Professor of Medicine, at the University of Colorado Denver School of Medicine.
Researchers in Cedars-Sinai's Department of Psychiatry and Behavioral Neurosciences found people who undergo massage therapy experience measureable changes in their body's immune and endocrine systems. "People often seek out massage as part of a healthy lifestyle but there hasn't been much physiological proof of the body's heightened immune response following massage until now," Mark Rapaport, M.D., chairman of the Department of Psychiatry, said in a media statement. The study, published in the Journal of Alternative and Complementary Medicine, showed research subjects receiving Swedish massage experienced significant, positive changes in lymphocytes (white blood cells that play a large role in defending the body from disease), and a large decrease in Arginine Vasopressin (AVP),a hormone believed to play a role in aggressive behavior to cause increases in the stress hormone cortisol.
Massage therapy was also shown to ease chronic low back pain and improve function, according to a large controlled trial published in the Annals of Internal Medicine " We found that massage helps people with back pain to function even after six months," said trial leader Daniel C. Cherkin, PhD, a senior investigator at Group Health Research Institute, in a press statement. "This is important because chronic back pain is among the most common reasons people see doctors and alternative practitioners, including massage therapists. It's also a common cause of disability, absenteeism, and 'presenteeism,' when people are at work but can't perform well."