Welcome to Week 31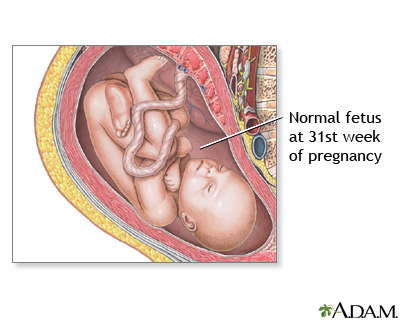 Your Baby: Eye-Opening Developments
The third trimester is a time of rapid growth -- for you and your baby. You might gain a lot of weight -- and for good reason. Only 31 weeks, your baby weighs in at about 3 pounds 5 ounces (1590 g), and measures over 18 inches (46 cm) tall. Thanks to the deposits of white fat underneath the skin, the baby's color is changing from red to pink. At this point, the baby's irises dilate and contract in response to light. His fingernails may extend to the end of the hands.
The organs are also in a growth period. Don't worry: Even if you feel breathless when you climb a flight of stairs, your womb mate is getting plenty of oxygen from your placenta.
Your Body: Planning for the Birth
Most first-time moms have mixed emotions and many questions about labor and delivery. You may wonder how you will know when you're having a contraction, or when you should go to the hospital. You may be worried about what you can take for the pain. One of the easiest ways to get answers and ease your fears is to arm yourself with knowledge:
Read books on childbirth
Take notes during your childbirth education class
Consult your health care practitioner
Ask friends and family to share their experiences
Many women put together a birth plan to delineate their wishes for labor and delivery. It's probably better to think about your birth "preferences". Labor and birth are unpredictable, so it's hard to stick to a plan.
So what are your options? Births are a little like weddings - you've probably been to weddings that you think are lovely, and you've been to others that you thought were tacky. But the bride and groom chose to spend their day with that cake, those flowers, and that DJ - and it was right for them. Similarly, some women want to have a birth without any pain medicine and little medical intervention. They want to hold and bond with their baby right after birth, amniotic fluid and all. Other mothers would happily have an epidural placed before the first contraction, and would like their baby washed, diapered, and dressed before touching them for the first time. Within the realm of what's safe, there are lots of different "right" ways to have a birth. You and your partner should think about what works best for you.
Here are some of the key issues to think about. Then ask your health care provider or talk to the hospital to learn about general policies. Discuss the risks and benefits of the options. You may have to fill out specific forms or releases for many of these items ahead of time.
How do you feel about using medicine for pain relief in labor? Do you want to try to go without pain medicine, or would you prefer to have anesthesia as early as possible?
Would you like to be able to labor in a tub or shower, if one is available at your birthing center or hospital?
Is there anything you want to bring to the hospital? Check the hospital's guidelines about video cameras, music, pillows, lights, etc. Some hospitals may have rules regarding video taping the birth.
Who do you want to be present during labor? During delivery? Is there anyone you specifically want kept out of the room?
What is the role of your coach? Would you like to have a doula present during labor?
Is there a particular delivery position or procedure you would like follow? Are these positions procedures an option where you will be giving birth?
Would you like to have a mirror in the room when you are pushing, so you can watch your baby emerge?
Do you have strong feelings about assisted delivery methods (forceps, vacuum extraction) or cesarean delivery?
Would you like to avoid an episiotomy?
If you have a cesarean, would you like your partner or coach to be present during the surgery?
Who do you want to cut the umbilical cord? Would you prefer delayed cord clamping?
Would you like to donate cord blood or participate in cord blood banking?
Do you want to hold your baby right after birth, or do you want her washed and swaddled before you meet her for the first time?
Do you have specific desires about a bonding period with the baby after birth? Would you like immediate skin to skin contact with infant after birth?
Do you have strong feelings about receiving a routine IV to replenish your fluids?
Are you planning to breast feed? If so, how do you feel about having your baby stay in your room after delivery? Would you like to avoid pacifiers or supplements?
Do you want anyone from the hospital to help you with breastfeeding or other baby care issues?
Do you want a male baby to be circumcised?
Some other issues routinely come up in books and web sites about birthing plans, but are rarely used at hospitals today. Check with your provider to make sure, but generally, you won't be offered an enema, nor will your pubic area be shaved, unless you specifically request it.
Weekly Tip
A lot of moms and dads-to-be wonder if and when they will bond with their baby. An easy way to welcome and connect with your future arrival is to write a letter beforehand. Share your feelings about the pregnancy and about becoming a parent. Regale him with things friends or family have said or done, what you would do the same or differently if you could do it all over again. You can use it as a time to reflect on the past seven plus months and to relish the time left.
---
Review Date: 8/20/2019
Reviewed By: LaQuita Martinez, MD, Department of Obstetrics and Gynecology, Emory Johns Creek Hospital, Alpharetta, GA. Also reviewed by David Zieve, MD, MHA, Medical Director, Brenda Conaway, Editorial Director, and the A.D.A.M. Editorial team.
The information provided herein should not be used during any medical emergency or for the diagnosis or treatment of any medical condition. A licensed medical professional should be consulted for diagnosis and treatment of any and all medical conditions. Links to other sites are provided for information only -- they do not constitute endorsements of those other sites. © 1997- A.D.A.M., a business unit of Ebix, Inc. Any duplication or distribution of the information contained herein is strictly prohibited.
© 1997-

All rights reserved.